How to choose manicure type
What is the Difference Between Soft (Soak off) Gel, Hard Gel, Gel Polish, and Acrylic Nails?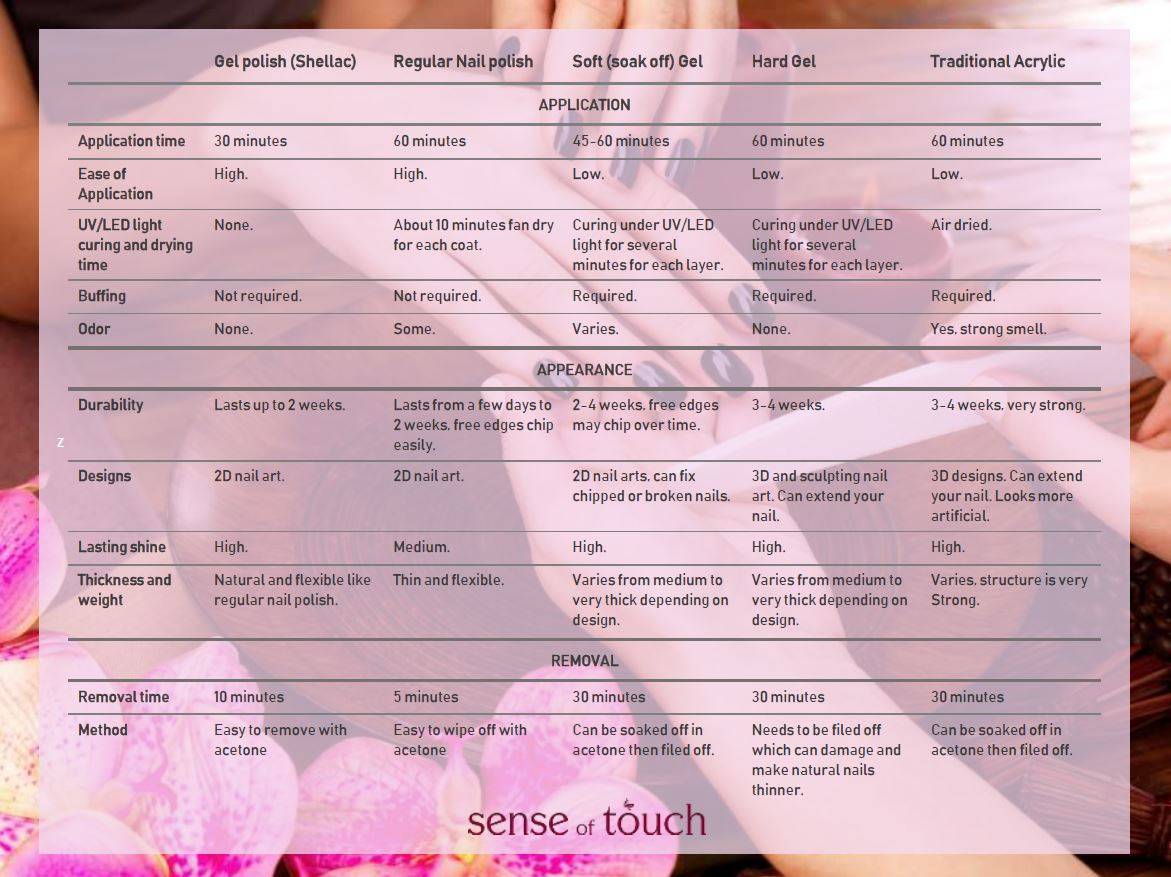 Soft Gel
Soft gel manicure is also known as soak off gel because it can be removed by soaking the nails in acetone. These manicures can repair chipped and broken nails of short to medium length. The nail surfaces need to be buffed to prepare a smooth surface so that the gel stays, regular treatments could make the natural nail thinner. The designs can last from 2 to 4 weeks but the free edges may chip.

Hard Gel
Nail art designs can get very creative with hard gel as it allows for 3D designs and sculpting. It can be used to extend the length of your nails, creating a larger canvas for amazing designs and can last around 3 to 4 weeks. However, regularly receiving hard gel manicures can damage and weaken your natural nails as your nail beds need to be buffed prior to application of the gel and the manicure can only be removed by filing it off.
Gel Polish (Shellac)
Gel polish has the lightness and flexibility of regular nail polish but without the chipping and dulling of colour. It does not require buffing of the nail bed and UV light curing so it is a less damaging procedure for your hands and nails. These designs last around 2 weeks and can be easily removed by acetone. Jazz up your nails with a Shellac mani at Sense of Touch.
Traditional Acrylic Nails
Acrylic nails are the classics of nail extensions and similar to hard gel manicures, it can extend your nails for intricate nail art designs. The material is very strong and can last around 4 weeks, but to remove it, it also needs to be soaked in acetone and then filed off. If not done well, the design can look unnatural.